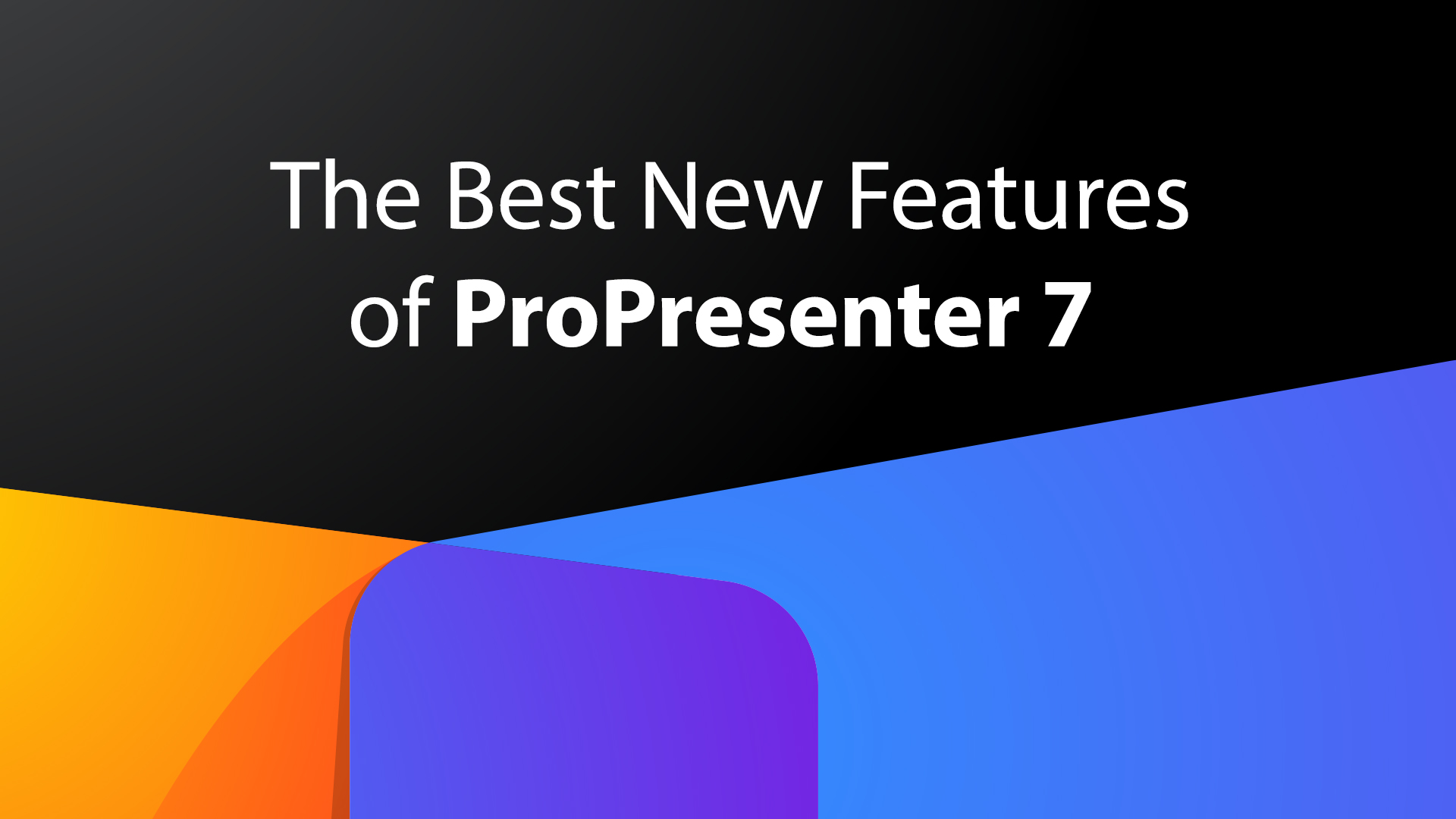 Today, Renewed Vision held a keynote and live stream announcing a brand new version of their popular church presentation software, ProPresenter. This new release has been highly anticipated by church tech teams over the past few months as the company has dropped hints of their newest update. The best part? It's available to download immediately.
Our team at Church Motion Graphics are long-time users of this presentation tool, so we were excited to get our hands on ProPresenter 7. If you're considering updating from a previous version, or perhaps jumping into this software for the first time, here's a quick look at some of the best new features in Pro7.

1. A Content-Focused Interface
The first big change that we noticed with ProPresenter 7 is a massive overhaul to their interface. You'll love the new dark mode that makes the software much easier on your eyes when working in darker production environments. Other great changes include more convenient buttons to clear elements, a helpful search bar, and multiple presentation libraries. Plus, in the new "preview" area on the right, you can view the output of any of your screens.

2. Display Multiple Scripture Translations At One Time
Is your congregation multilingual? Or, do you ever need to compare two different translations of a Bible verse in your teaching? This new feature allows you to quickly create slides that show multiple translations of the Bible on your screens.
3. Increased Text Size For Operators
A new EasyView feature allows complete customization of slide text specifically on the operator side. Without affecting your slide formatting that displays to your audience, you can now change the font, color, size, and more of your slides on your operator display. This is great for increased visibility when running your slides. No more squinting needed!

4. Better Support For Windows
Since its original release, ProPresenter has been a Mac-focused program. Even though the past few versions have included a Windows option, it has always received new updates much later and been more of a little brother to the Mac version. With Pro7, Renewed Vision has built a new platform from the ground up to ensure an identical 64-bit experience on both Windows and Mac. PC fans everywhere can rejoice!
5. Built-In Configuration For Multiple Screens
In the past, many ProPresenter users utilized the Multiscreen Module and TripleHead2Go adapters to achieve multiple screen outputs. Since most computers now support multiple outputs natively, Pro7 allows you to fully control what content goes to each of your screens, through SDI, NDI, and HDMI. You can output to as many screens as your computer will allow with more customization than ever. Another great feature of these new screen controls is that the software will remember your output settings, even after restarting or unplugging.

6. Increased Stage Display Flexibility
In past versions, formatting and display options for stage displays, or "confidence monitors," was pretty limited. With Pro7, there is a brand new Stage Display editor that allows you to create layouts with similar controls as creating slides. Plus, you can now send separate stage display looks to different screens in your space. For example, you could have a fullscreen clock on one display and song lyrics on another.
7. A Completely New Editor Mode
ProPresenter's new Editor has been rewritten with new features that users have requested most for slide design. Fresh shapes, fills, alignment guides, text controls, and more have been added that make outside presentation software like PowerPoint unnecessary. 

8. A Separate Announcement Layer
Have you ever wished that you could display pre-service slides in the lobby while displaying other content in the auditorium on one computer? Now you can. The new Announcements layer in Pro7 allows you to simultaneously display certain slides on one screen, while you're completely free to run different content on another display. This will be particularly useful during soundcheck on Sundays.
9. All Modules Are Now Included For Free
For years some of the best ProPresenter tools were reserved for customers who could afford to pay a couple hundred bucks more per feature. Altogether, these extra modules would cost you over $2500 to unlock these advanced capabilities. With Pro7, all of that changes because those modules are all included for free! That's right—features such as midi support, edge blending, alpha keying, SDI/NDI support, and more are built-in at no additional charge.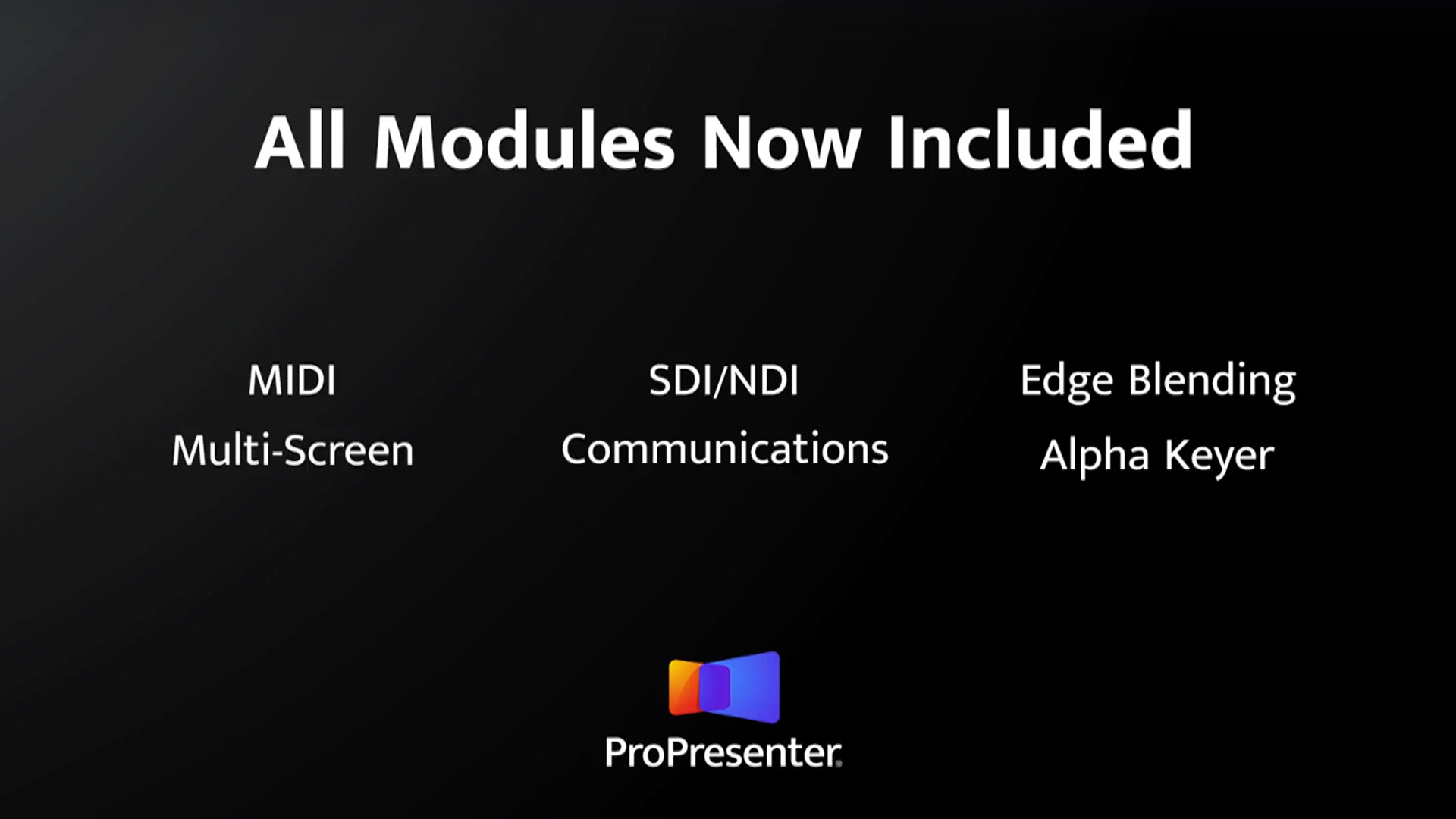 Ready To Try It For Yourself?
You can find out more about ProPresenter 7 and how you can purchase it for your ministry at RenewedVision.com. But, your presentation software is only as good as your visuals.

For the very best in worship backgrounds, slide templates, and countdowns to use with Pro7, Church Motion Graphics has you covered. We make it simple to keep a fresh look with thousands of media downloads available at your fingertips, plus, fresh content is added each month. It's truly the best companion for your new software.
See Our ProPresenter Backgrounds