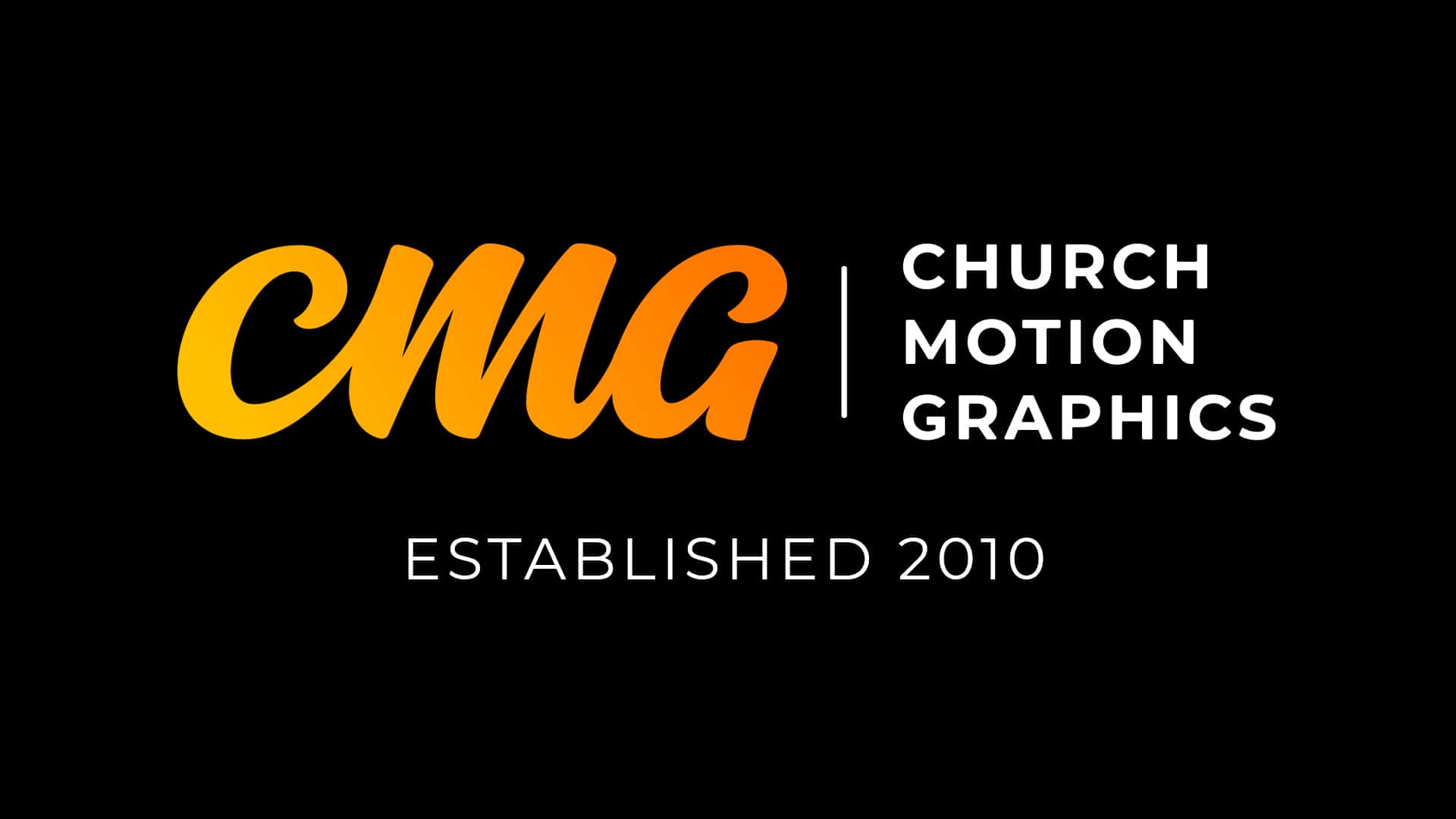 Church Motion Graphics is a ministry-focused, design studio dedicated to creating eye-catching, background graphics, videos and templates that are specifically designed to look great in worship environments. "CMG" content is perfect for displaying behind worship lyrics, announcement slides, sermon notes or when shown alone.
Since 2010, Church Motion Graphics has worked with thousands of churches around the globe to utilize the power of visuals to inspire faith communities in ways like never before. With a passion to help churches look great, Jeff McIntosh, founder and chief designer, started this company as a way to help ministries of all sizes have a great look to match their great message. CMG continues to expand its reach and adds new employees each year, including Kendall Conner, chief of operations, who joined the team in 2016.
Over the course of its nine year history, this studio and electronic publishing service has created and sold over 8000 unique motions, still graphics, and templates that are in use in church services, conferences, and worship events in as many as 90 countries. It is one of the largest producers of religious media today.
Company Timeline
---
2010
Church Motion Graphics is founded by Jeff McIntosh as a simple, affordable way for churches to improve the look of their screen presentations.
CMG first started selling individual motion background videos on TripleWideMedia.com.
ChurchMotionGraphics.com website and online store are launched.
2011
Church Motion Graphics started selling content on WorshipHouseMedia.com expanding its reach to more faith communities around the world.
CMG Blog is launched with first tutorial, How to Time Text to Motions in ProPresenter. It begins offering articles, how-to's, and resources for media teams.
2012
Church Motion Graphics receives award for Moving Background of the Year from WorshipHouseMedia.com
Subscriptions are launched on ChurchMotionGraphics.com allowing churches to purchase monthly packs of motion graphics for an industry-shaking low price.
CMG becomes official sponsor to Create Conference Canada.
2013
Subscriptions grow in popularity and become one of the fastest growing church media products in the industry.
Church Motion Graphics samples are now included in all major church presentation software downloads.
2014
Visual Church Media Facebook Group is launched connecting over 25,000 church media leaders to learn and inspire each other.
The Worship Media Handbook ebook is published by Jeff McIntosh and ChurchMotionGraphics. It sells over 1500 copies in first few months.
2015
Church Motion Graphics receives award for Worship Leader Magazine 2015 Editor's Pick.
CMG becomes official sponsor to Salt Conference Nashville.
ChurchMediaSpot.com is launched giving access to a useful library of all of the best church media resources available on the web.
2016
Pro Titles and Pro Layers are introduced to pave the way for church leaders and volunteers to be more creative with their screen graphics.
CMGcreate.com is launched making thousands of still backgrounds absolutely free for anyone to download and use in their organization.
The Church Slide Design Makeover campaign goes public which allows thousands of churches to improve their screen visuals for free.
2017
ChurchVisualIdeas.com is launched to help provide an easy place to find inspiration for creating videos and graphics for your church.
TempoMatch feature is added to ChurchMotionGraphics.com enabling customers to quickly find the perfect motion background to fit the speed of any worship song.
CMG Templates are introduced as the best and most customizable way to improve the look of sermon and series presentations.
2018
CMG Scholarships are introduced to help church plants and small ministries reap the benefits of a CMG Subscription even though they are unable to pay full-price for motion backgrounds.
CMG Social, a large collection of creative social media graphics, is added to Premium Subscriptions allowing churches of all sizes to engage their community during the week through social media.
The Church Shirt Kit is launched to help provide creative t-shirt designs for every area of a church without the need of hiring an expensive graphic designer.
CMG Sans, "the world's best lyric font," is released as a free download enabling church tech teams around the world to improve the look of their screen text. It has now been downloaded over 36,000 times.
2019
An affiliates program is introduced called "CMG Affiliates" that allows users the opportunity to earn up to 10% of every purchase for an entire year from all new customers they refer.
CMG Editor is unveiled as a free online graphic design platform allowing everyone to create captivating visuals without the need of expensive software like Photoshop. A premium version is added later which enables users to create designs on motion backgrounds.