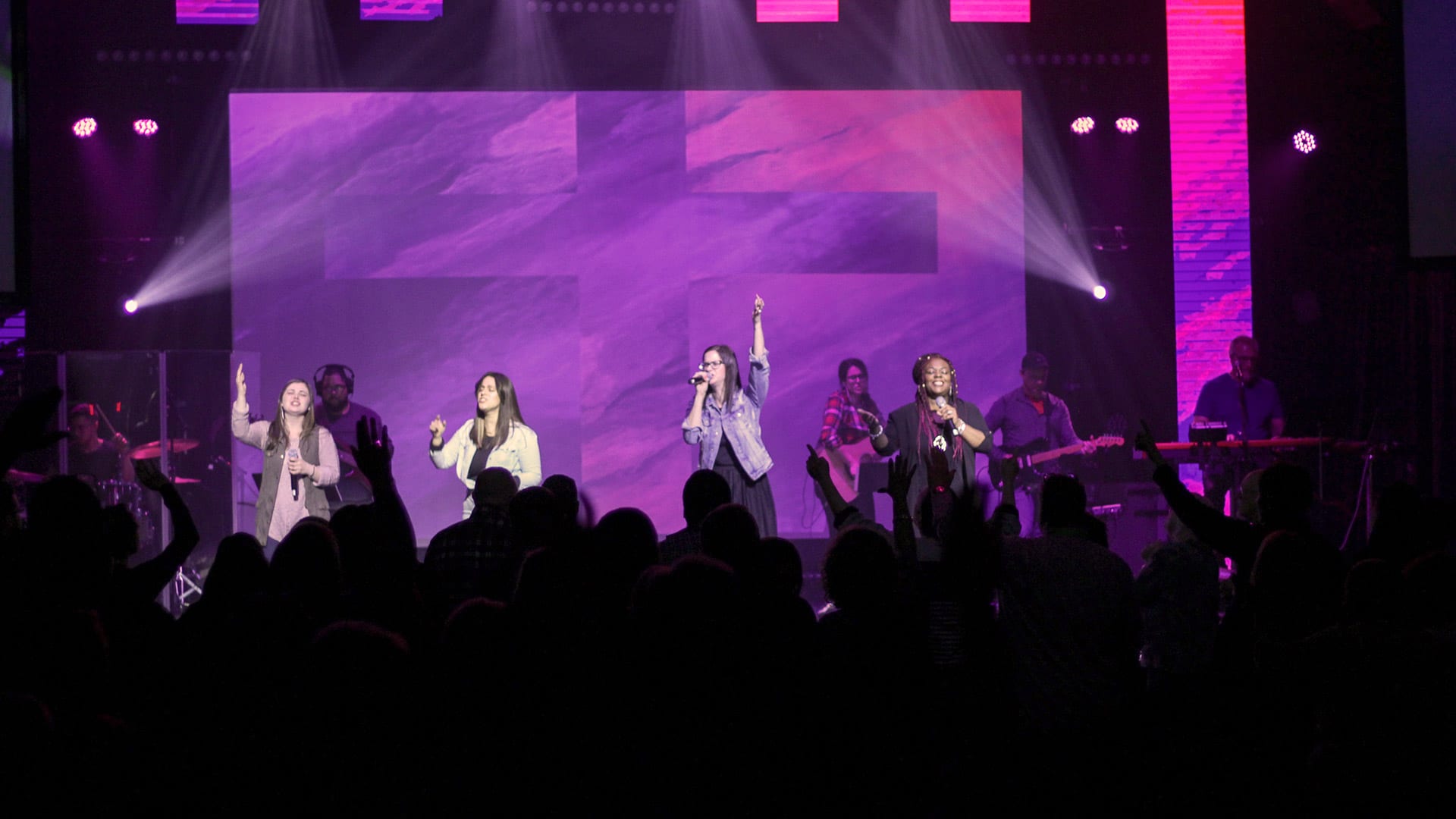 While it's easy to get caught up in all of the invitations and egg hunts, Easter is really about celebrating the resurrection of Jesus. Of course, there is a lot of value in all of the other holiday activities and fun, but creating a meaningful time for people to worship God on Resurrection Sunday should be the highlight. Here are five easy ideas that will make your time of singing and worshipping extra special this Easter.
Feature Photo: Fathers House Church in Rochester, NY
1. Start With An Opener Video
It's easy for people to come into service, even on Easter, feeling groggy and uninterested in what's happening on stage. Showing an exciting, opener video is a great way to jumpstart your congregation and set the tone for the time of worship. This Easter, we've made a brand new video that matches our April "Foil Vibes" look and is included with all CMG Subscriptions.
Learn More About Our Easter Video Opener
2. Use A Unique Font For Lyrics
There will be new faces in your crowd on Easter Sunday, so it's more important than ever to provide the lyrics for your worship songs on your screens. You may even have members of your congregation who aren't familiar with your newer songs. Since so much is riding on these lyrics, it's the perfect time to make the switch to the world's best worship lyric font—CMG Sans. With 26 variations, you can find the perfect look for your church.
Download CMG Sans
3. Include Scripture In Your Worship
Taking a moment to pause and include the reading of Scripture is a great way to expound upon a song's words or just make a special moment. This can be done between songs or built into a song during an instrumental. Remember to display these verses on the screen, along with the reference, so that everyone can clearly understand what is being presented.
4. Use Creative Motion Backgrounds
We are visual creatures, so when there is a chance to include powerful visuals in a worship set, there is the potential to inspire. Using creative motion backgrounds behind your lyrics is the perfect way to make a noticeable upgrade to your time of singing. Ready to take it to the next level? Try using more than one motion in a song, such as one during the verses and another during the chorus or bridge. At CMG, motion backgrounds are our specialty. Our library is filled with thousands of eye-catching motions, including our new Foil Vibes Easter Pack.
Download April 2019 CMG Pack
5. Combine Two Songs For A Unique Arrangement
Looking for a fresh twist for your Easter music? Try mixing two similar songs together to form a new arrangement that will surprise your congregation. Examples of this could be bringing together Hillsong's Open Heaven and Jesus Culture's Holy Spirit. Or, opening with the classic Amazing Grace, then transitioning into Hillsong's Broken Vessels. Find songs with similarities, then combine their parts for a new mix. The potential for creativity is endless with this and can be customized to your unique audience.
We're Here to Help You This Easter
We know that Easter is an important time for your ministry, so Church Motion Graphics is committed to helping you make your big day special. We have a large collection of resources, many that are FREE, that will make it easy for your church to look awesome as you reach your community.
See All Easter Resources