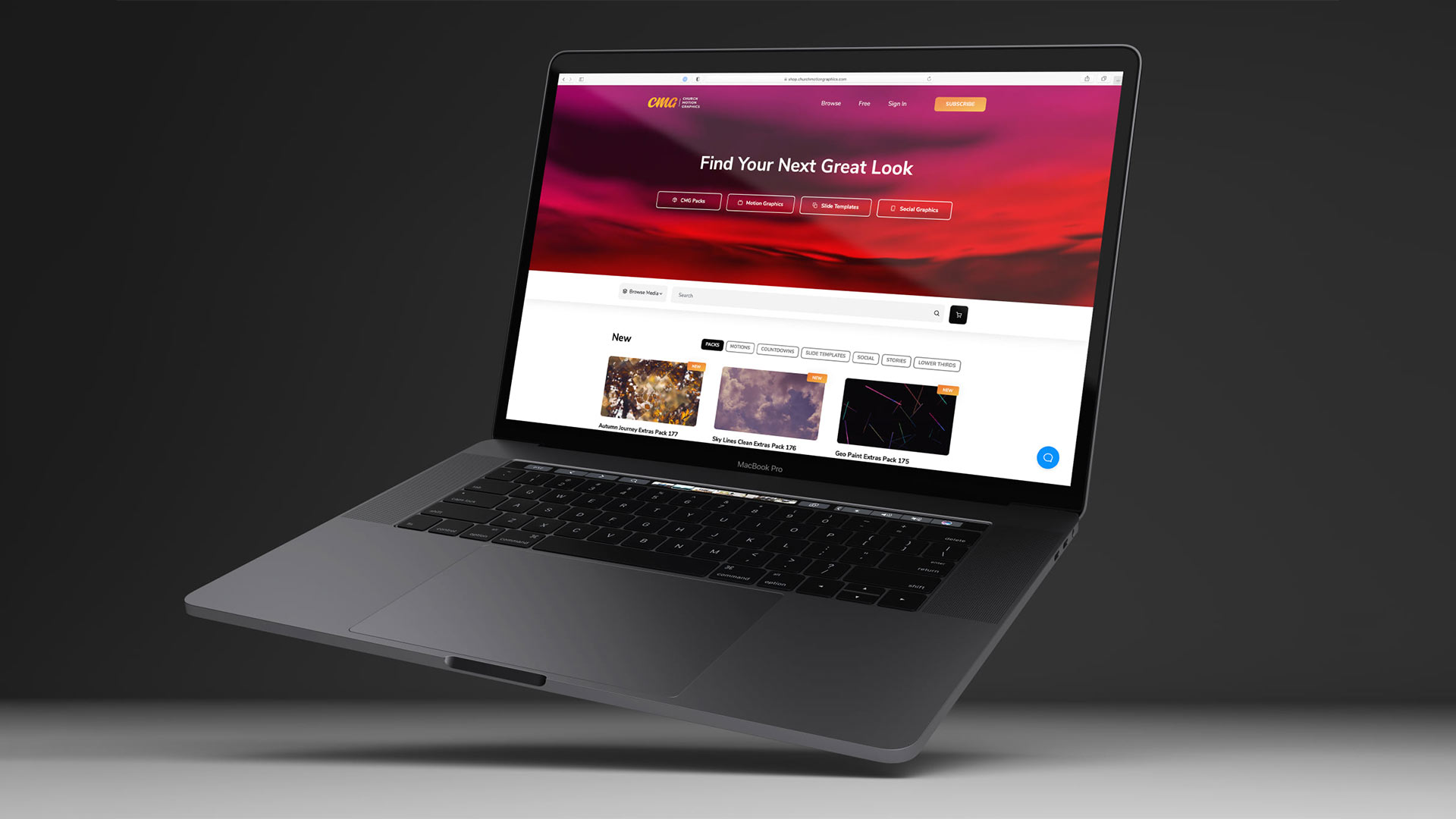 Today, we are excited to announce that the all-new CMG Media Browser has arrived.
At Church Motion Graphics, our team is passionate about creating visuals for ministry, but what really gets us excited is serving people. That's why we spent over six months in development carefully listening to customers' ideas and turning them into a fresh user interface that is specially designed for how real churches use media.
Starting today, you can find your next great look in seconds with industry-leading search precision, helpful filter options, fast loading previews, stunning galleries, and more that you'll be able to navigate with ease.
Try The New Media Browser Now
Here's a closer look at what we've improved for you:
A Brand New Interface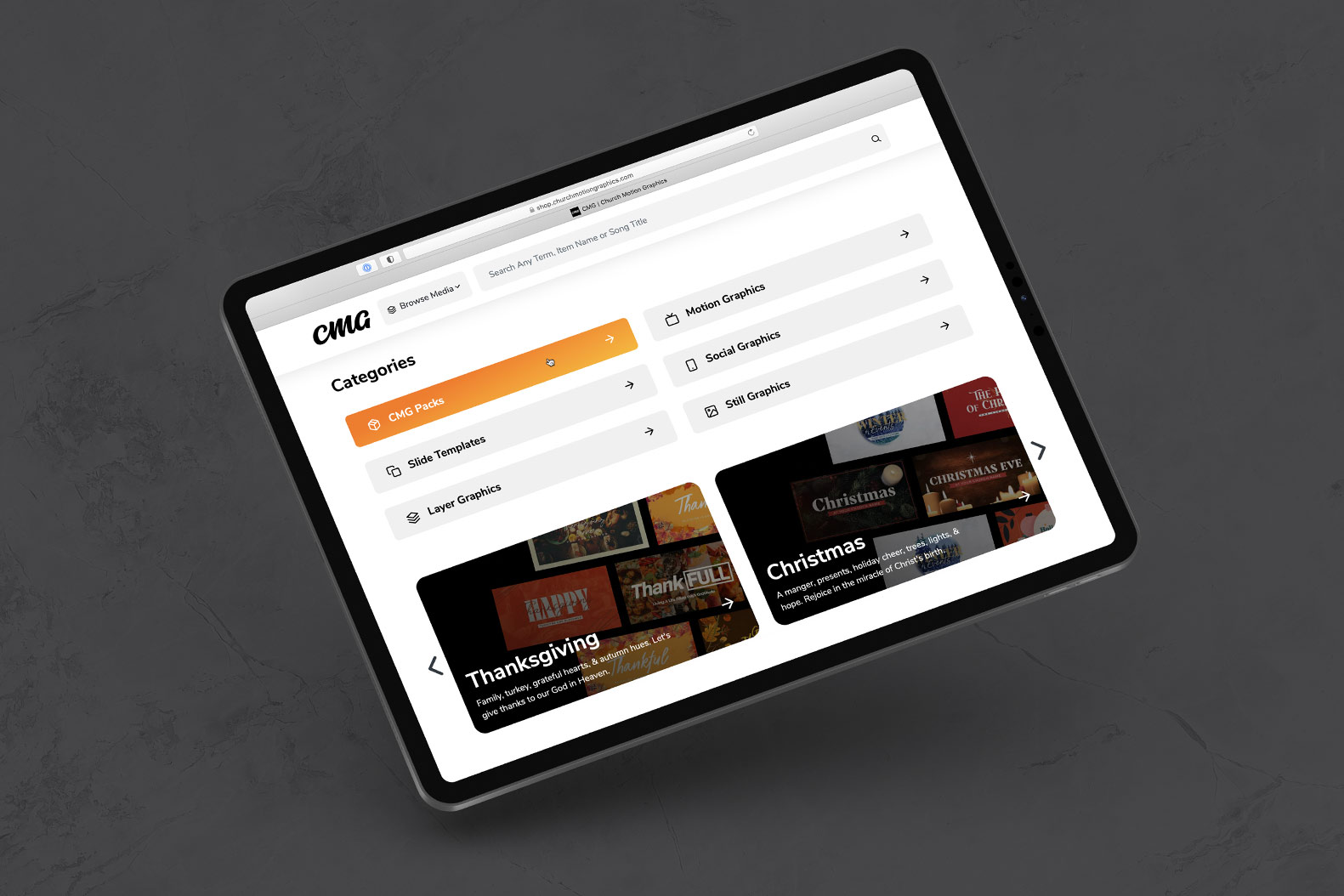 The first thing that you'll notice is that your browsing experience has a brand new look. This bright, clean interface uses new fonts, rounded edges, clearer labeling, and softer colors. An all-new "mega menu" and helpful buttons leading to our most popular content have been added right where you need them. Plus, we've included new trending sections and categories to help you find relevant content with ease.
Industry-Leading Search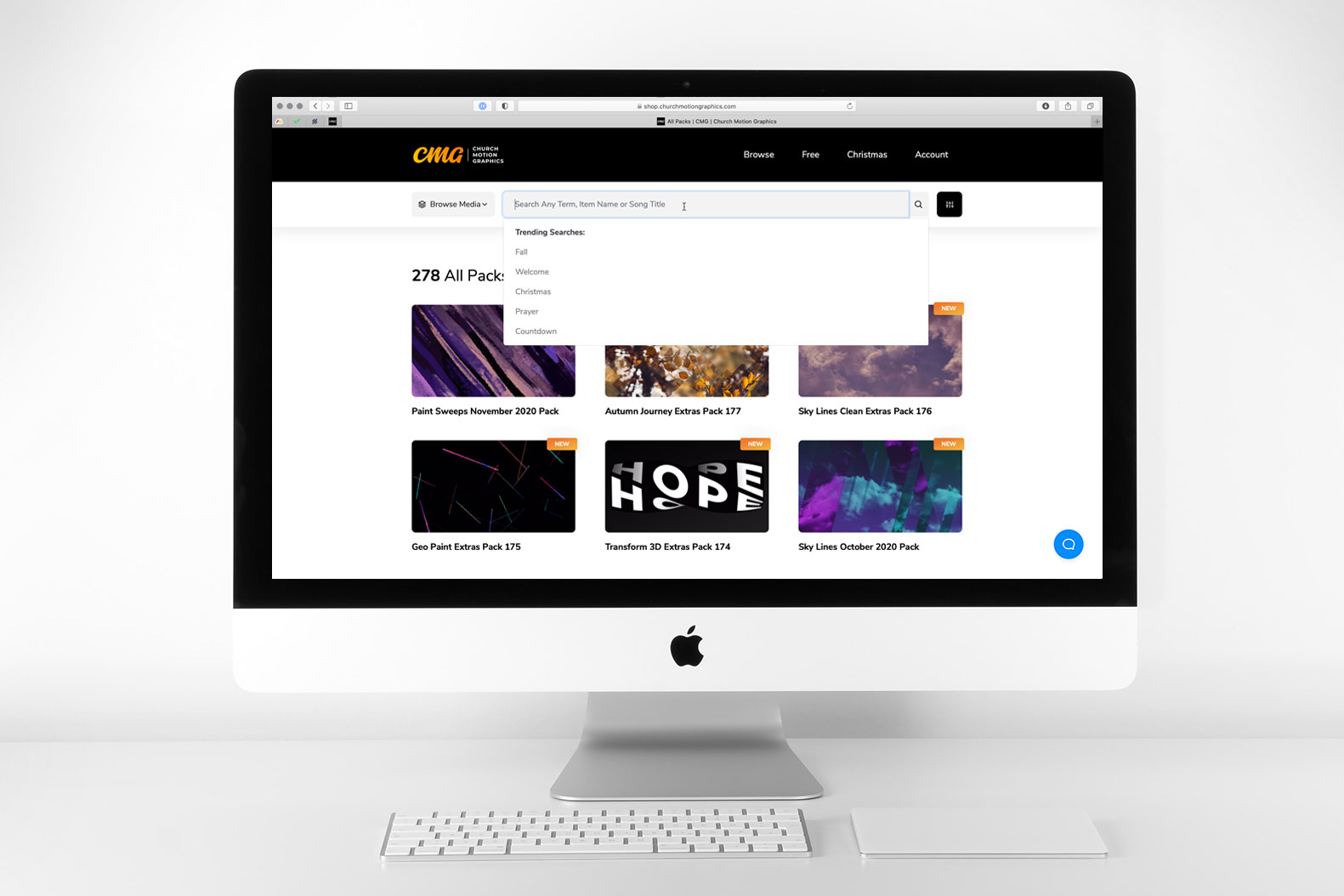 At the core of our Media Browser is a brand new search bar that is more powerful than ever. It's the fastest, most accurate, and smartest search tool that we've ever seen utilized in a church media gallery. You'll find that when you can trust that a search bar understands what you're asking for, you gain the freedom to explore more often. Additionally, you can now see what others like you are looking for when you are.
The New Filters Panel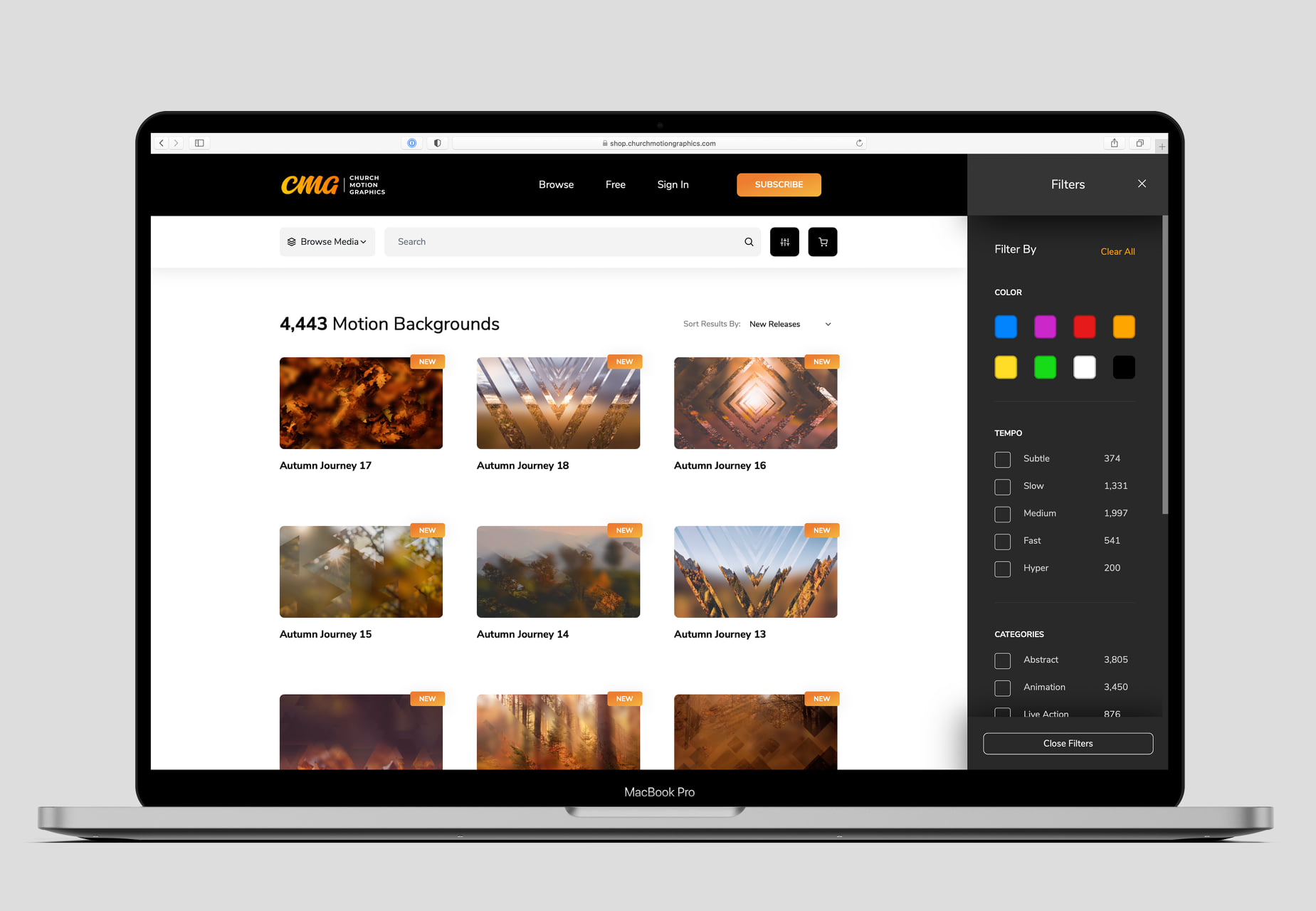 Our subscribers have been asking for more ways to explore content in our growing library of visuals. We heard you loud and clear. Now, every CMG media gallery (motions, templates, social, etc.) can be filtered to narrow down the search to find your next great look. Here are all the available filters depending on the gallery type you are browsing: 8 Color Filters, 5 Tempo Filters, Category Filters, Minimum Resolution Filter, Minimum Playback Duration Filter, and Must Include Music Filter.
1-Click Downloads & Bookmarks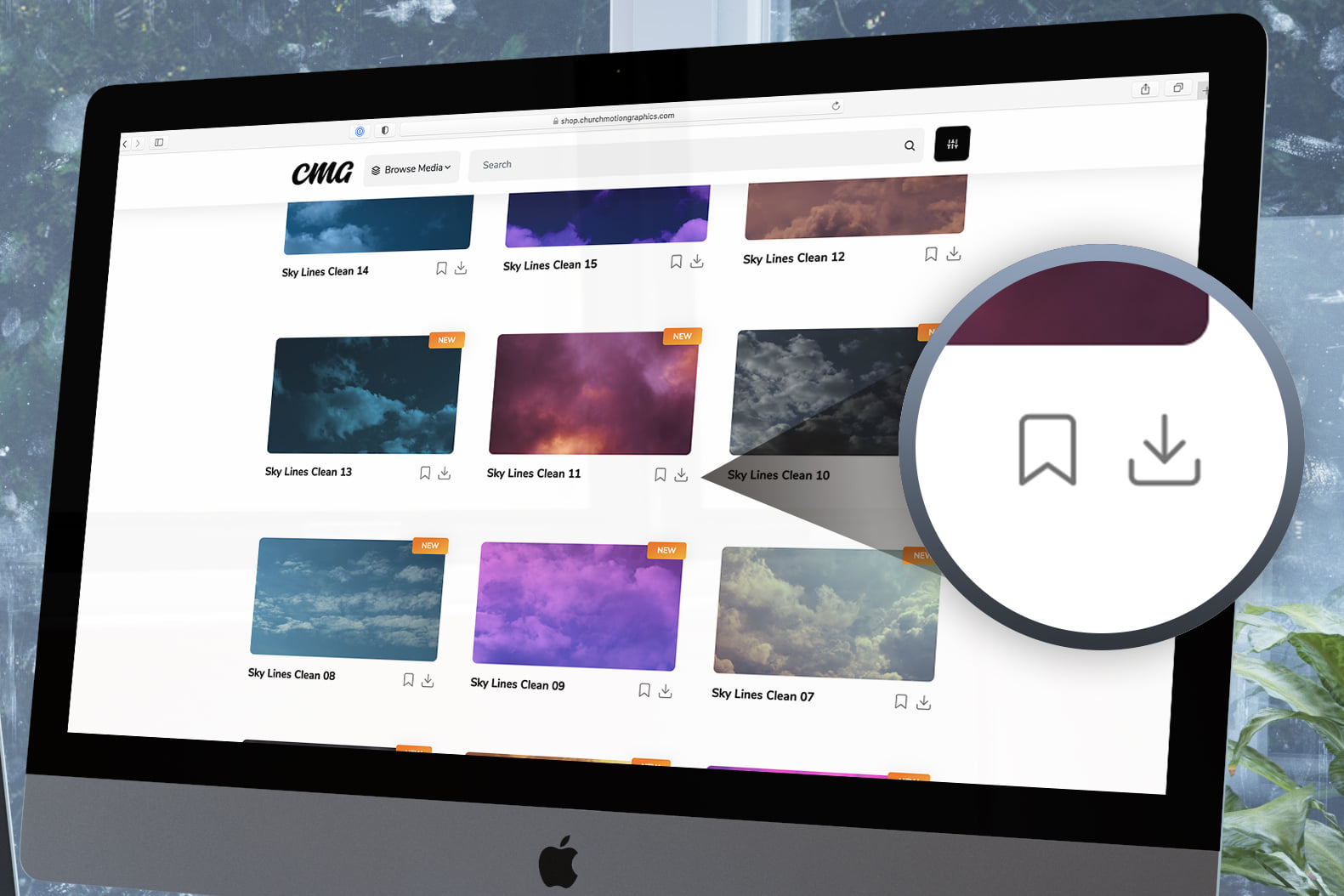 CMG Subscribers will enjoy using these two new quick action icons that are found throughout the entire Media Browser experience. The first icon is for quickly bookmarking your favorite looks. When activated, the icon will fill with blue to indicate the item has been bookmarked, and it will now be accessible on your bookmarks page. The neatly organized bookmarks page can be accessed via the Browse Media button. The second icon is for rapid downloading. Click this, and you'll instantly start downloading the selected item. Your image resolution, file format, and download location settings will mirror those of your previous pop-up modal download, so make sure to double-check those settings before using this handy feature.
TempoMatch At Your Fingertips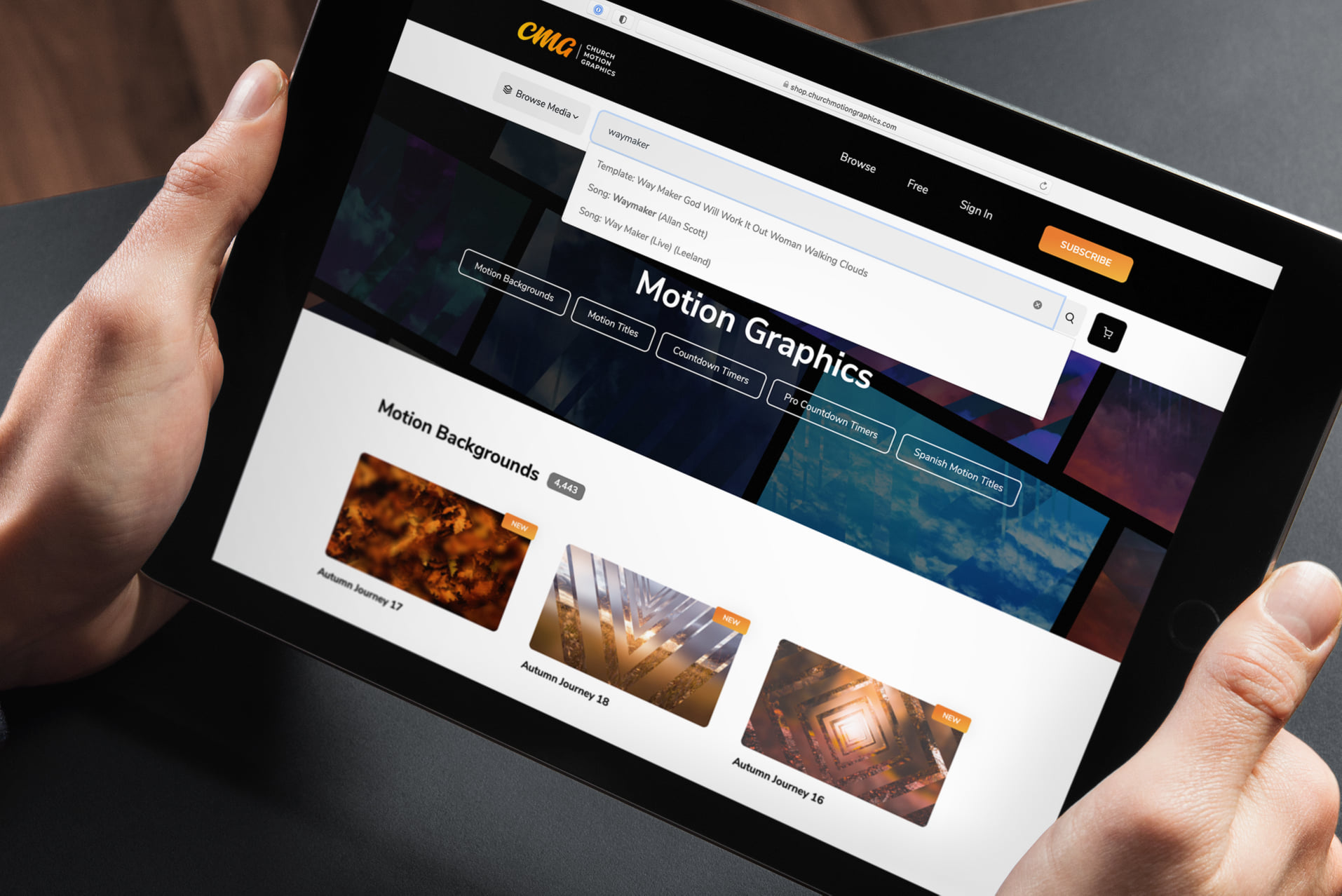 TempoMatch is the best way to find the perfect background to match a song. Simply type any worship song title or CCLI number in the new CMG Media Browser search bar, and you'll discover a gallery of motion backgrounds that match the tempo of that song. It's super efficient and unbelievably clever, just like you. Additionally, to quickly filter your motion background by tempo speed, click the filter button on the right-hand side of the search bar and select one of the five tempo speeds. Instantly, the gallery of motion backgrounds will be filtered so you can download what you need.
New Fonts & Mobile Support For CMG Editor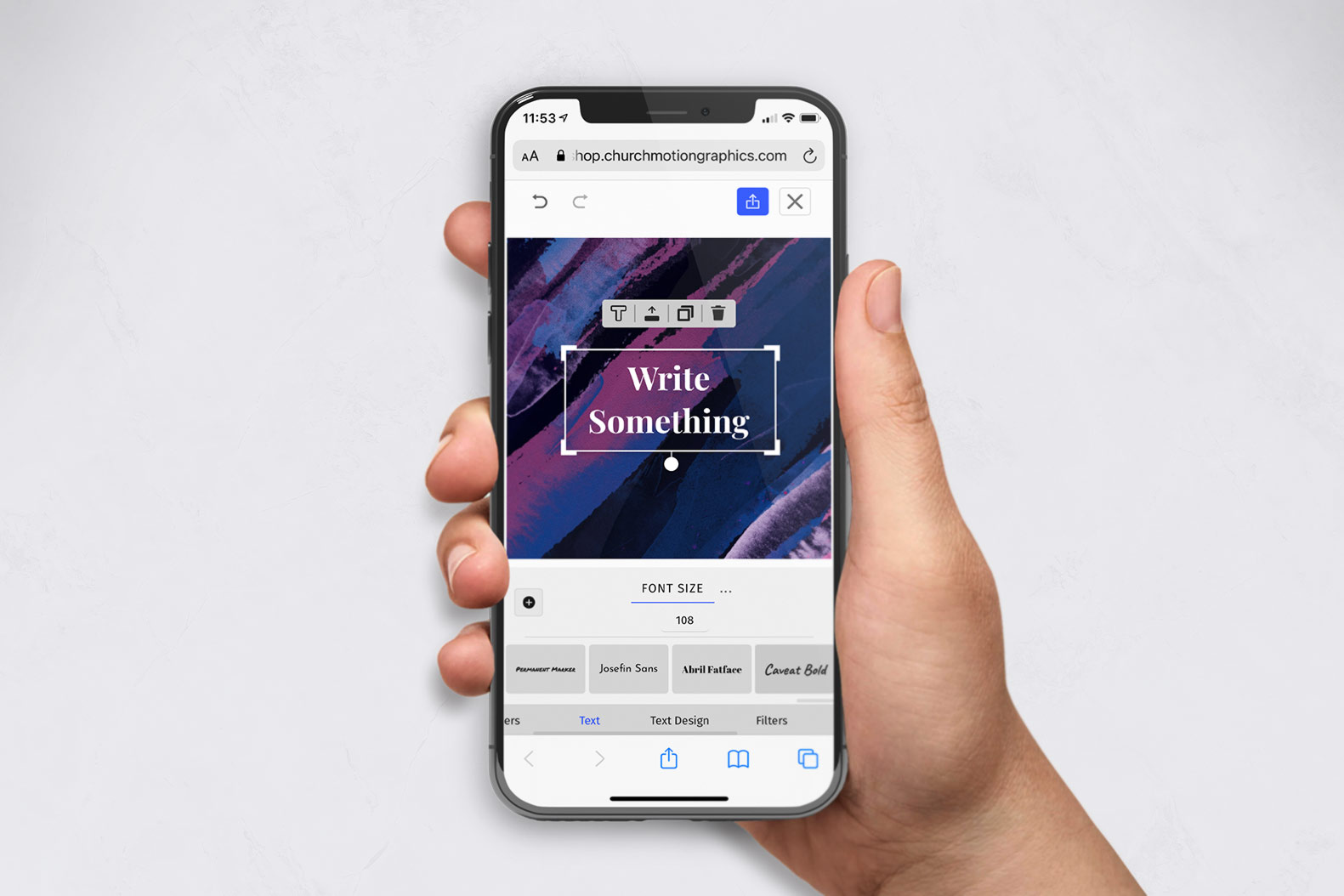 You spoke and we listened. We've made our popular in-browser graphic design tool, CMG Editor, even better by adding 15 new fonts. Plus, it now has a new user interface that brings improved functionally on both desktop and mobile. That's right – mobile! Go try them out for yourself by choosing any still background and clicking the "Open In CMG Editor" link.
Wait! There's More…
Countless other improvements have been added throughout the Media Browser that you'll love. Better access to tag and categories make it simpler to see past content. It's easier than ever to use Pro Titles and Pro Layers to build slides without ever leaving your browser. Interactive headers display fresh content each time you visit. Did we mention that it's lightning fast? You'll find your next great look super quick.
Try The New Media Browser Now