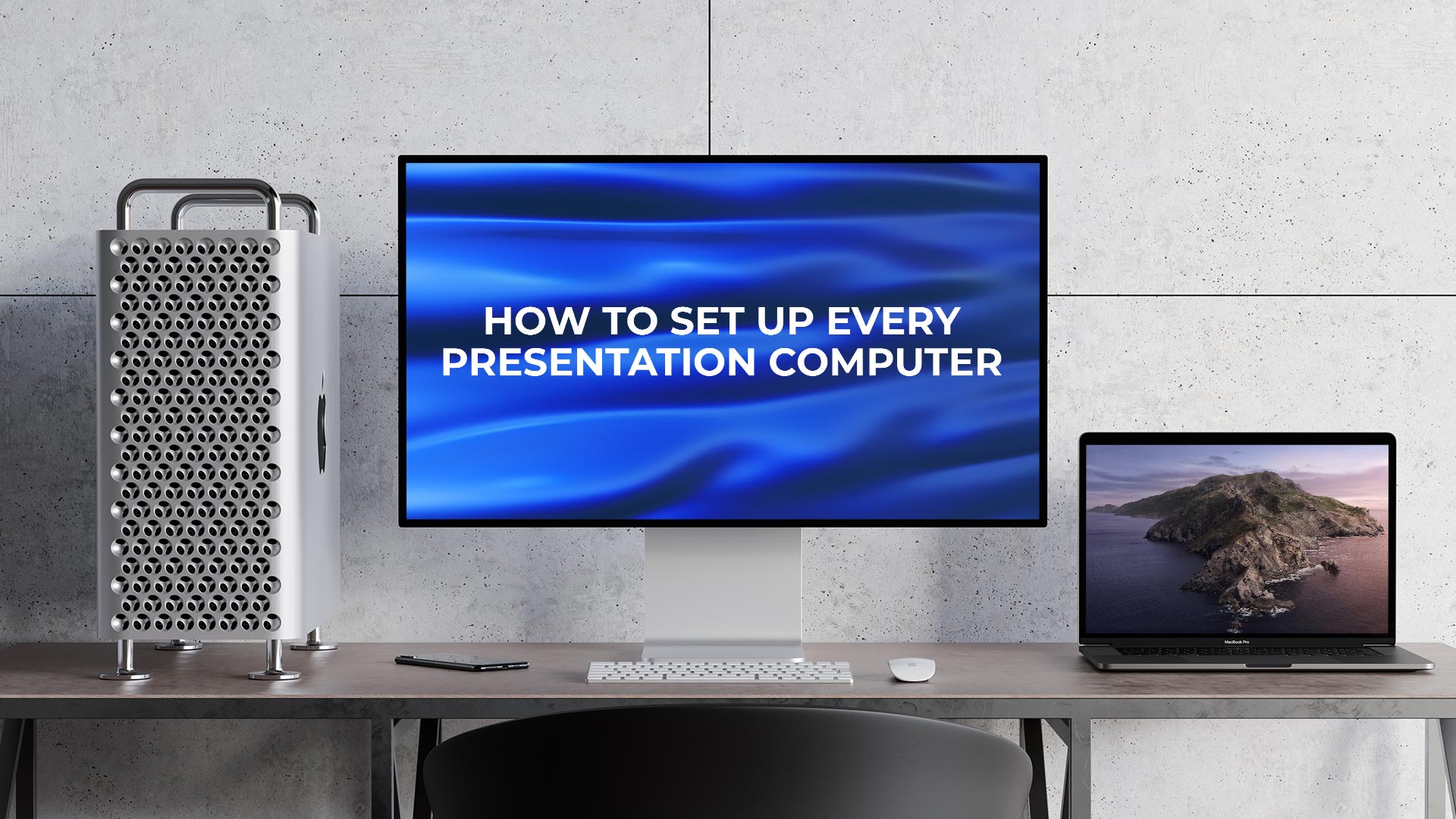 When setting up a computer to be used with presentation software such as ProPresenter, MediaShout, EasyWorship, Proclaim, Powerpoint, etc.), there are a number of minor tweaks you can make that will make a major difference in the quality of your production. Check out the video walkthrough below, or keep reading to see the tweaks you need to make for the best presentation setup.
System Preferences
We're going to walk through a few different sections of the System Preferences window and talk about why you need to change some of these default settings.
Desktop & Screen Saver Pane
Set Desktop Background to Black
Sometimes presentation software crashes. When that crash happens, a regular desktop wallpaper will signal to your audience that something has definitely gone wrong. However, if your background is solid black, a crash will be less noticeable to your audience.
Disable Screen Saver
You never want your screen saver to show on a presentation computer. Set your Screen Saver settings to "Start After: Never" to make sure you never accidentally have a screen saver on your presentation screen.
Disable Hot Corners
In a multiple monitor setup, presentation operators sometimes lose track of where the mouse is. The natural response is to wiggle the mouse wildly in order to find it. If you have hot corners active, there's a good chance that the mouse will hit one of those corners and cause an unintended result, such as putting the display to sleep.
Dock Pane
Disable Dock Magnification
Most presentation software has a few buttons or controls at the bottom of the window. If Dock Magnification is on, the dock tends to get in the way as you're trying to navigate those controls. Uncheck the "Magnification" box to prevent this issue.
Security and Privacy Pane
Disable Require Password From Screen Saver
Even though we've disabled our screensaver, we want to make sure the computer doesn't require a password when waking up from a screen saver or from sleep. In the General tab of the Security & Privacy pane, uncheck the "Require Password after sleep or screen saver begins" box.
Allow Apps Downloaded from Identified Developers
Sometimes you need an app that isn't available in the App Store. Make sure to allow apps downloaded from "App Store and identified developers" at the bottom of the General tab of the Security & Privacy pane.
Notifications Pane
Disable Notifications
You never want notifications (especially notification sounds) on a presentation computer. There are two ways to go about disabling them. The quickest way to disable them is to enable the "Do Not Disturb" option in the Notifications pane. Select the "Do Not Disturb" tab in the sidebar, then turn on Do Not Disturb from 12:00AM to 11:59PM. This will ensure you never see or hear any notifications during a presentation.
Energy Saving Pane
Disable Display Sleep
Similar to your screen saver, we never want a presentation display to go to sleep during a presentation. I like to set this option to "Turn off display after: 3 hours," in case I forget to shut a computer down after a presentation. It's rare that you will be in a presentation situation where the computer will remain inactive for 3 hours. If you're on a laptop, make sure to set this option in both the "Battery" tab and the "Power Adapter" tab.
Mouse Pane
Increase Mouse Tracking Speed
The default mouse tracking speed is a little slow. No matter the size of your work surface, you want to be able to reach every corner of your desktop without picking up your mouse. This comes down to personal preference, but 2 notches away from maximum speed is recommended.
Enable Right Clicking (if desired)
If you're using an Apple mouse, make sure to enable right clicking on the right side of the mouse if so desired. An easier option is to use a two button mouse so that you never accidentally click the wrong side of the mouse
Disable Third Mouse Button (Wired Apple Mouse Only)
The wired Apple mouse has two buttons on the side that can serve as a third mouse button if squeezed. Inexperienced operators tend to engage this button by accident, so it's best to just disable it.
Trackpad Pane (Laptop Only)
Increase Trackpad Speed
Similar to increasing the mouse tracking speed, we want to increase the tracking speed of the laptop trackpad. Find a speed that enables you to easily reach every section of the screen.
Sound Pane
Disable User Interface Sound Effects
Sometimes you need to move files in the background during a presentation. Make sure to uncheck the "Play user interface sound effects" box in the sound pane so that the computer doesn't make any sounds while you're working in the background.
Disable Play Feedback When Volume is Changed
Apple computers make a small "pop" sound when changing the volume. Make sure to uncheck the box that says "Play feedback when volume is changed" in case you need to adjust your computer volume during a presentation.
App Store Pane
Disable Automatic MacOS Updates
It's best to make sure that your presentation software is compatible with the newest macOS before updating. Uncheck the "Install macOS updates" box in the App Store pane to make sure your computer doesn't update itself and cause compatibility issues.
Disable Auto Update & Restart (Windows Only)
Windows computers will automatically update and restart themselves, no matter what the user is doing. Make sure to disable this option when using a PC so that your computer doesn't restart in the middle of a presentation.
Finder Tweaks
Now that we're done in the System Preferences window, we need to make a few simple tweaks to Finder.
Remove Unused Apps from the Dock
There are a number of default apps in the dock that will never be used on a presentation computer. Remove all of the apps you won't be using on this computer (Mail, Launchpad, Calendar, FaceTime, etc.).
Disable Facetime
You never want to receive a FaceTime call during a presentation. Make sure to launch the FaceTime app and disable FaceTime (Keyboard shortcut: Command-K).
Show Hard Disks on Desktop
Go into Finder preferences, and in the General tab, check the "Hard disks", "External Disks," and "CDs, DVDs, and iPods" boxes under "Show these items on the desktop." This will make it easier to get to your files quickly.
New Finder Windows Show Desktop
When adding files to a presentation last minute, most people add the files to the desktop. At the bottom of the general tab, set "New Finder windows show" to "Desktop."
Remove Unused Sidebar Icons
In the Sidebar tab of Finder Preferences, uncheck the boxes of folders that you don't need to see in the sidebar.
Add Applications Folder to Dock
Now that we have the Hard Drive showing on the desktop, double click your hard drive icon and drag your Applications folder into the dock. This is will give you quicker access to any apps you may need to launch during a presentation.
Show Filename Extensions
In the Advanced tab of Finder Preferences, check the "Show all filename extensions" box. In the event that multiple file types have similar file names, this will help ensure you're grabbing the correct file when dropping it into a presentation.
Disable Airdrop
In events with large crowds, people tend to airdrop files to others nearby (either by mistake or as a joke). Open a new Finder window and click the "Airdrop" tab in the sidebar. Change the option at the bottom of the window to "Allow me to be discovered by: No One" in order to prevent receiving an unwarranted Airdrop in the middle of a presentation.
Set Desktop to "Sort by: Snap To Grid"
Adding items to a presentation last minute can quickly make the desktop messy. Right click on the desktop and select "Show View Options." At the bottom of the View Options pane, choose "Sort By: Snap to Grid." This will ensure you don't have files sitting on top of one another, ensuring you have quick access to anything you may need.
Written by Chess Hoyle, Producer/Designer at Forest Hill Church
Need More Advice?
Don't feel like you're alone. We have a Facebook Group filled with over 35,000 church and creative leaders who are facing the same challenges as you. We encourage you to join our group and join in on the conversation!
JOIN OUR FACEBOOK GROUP