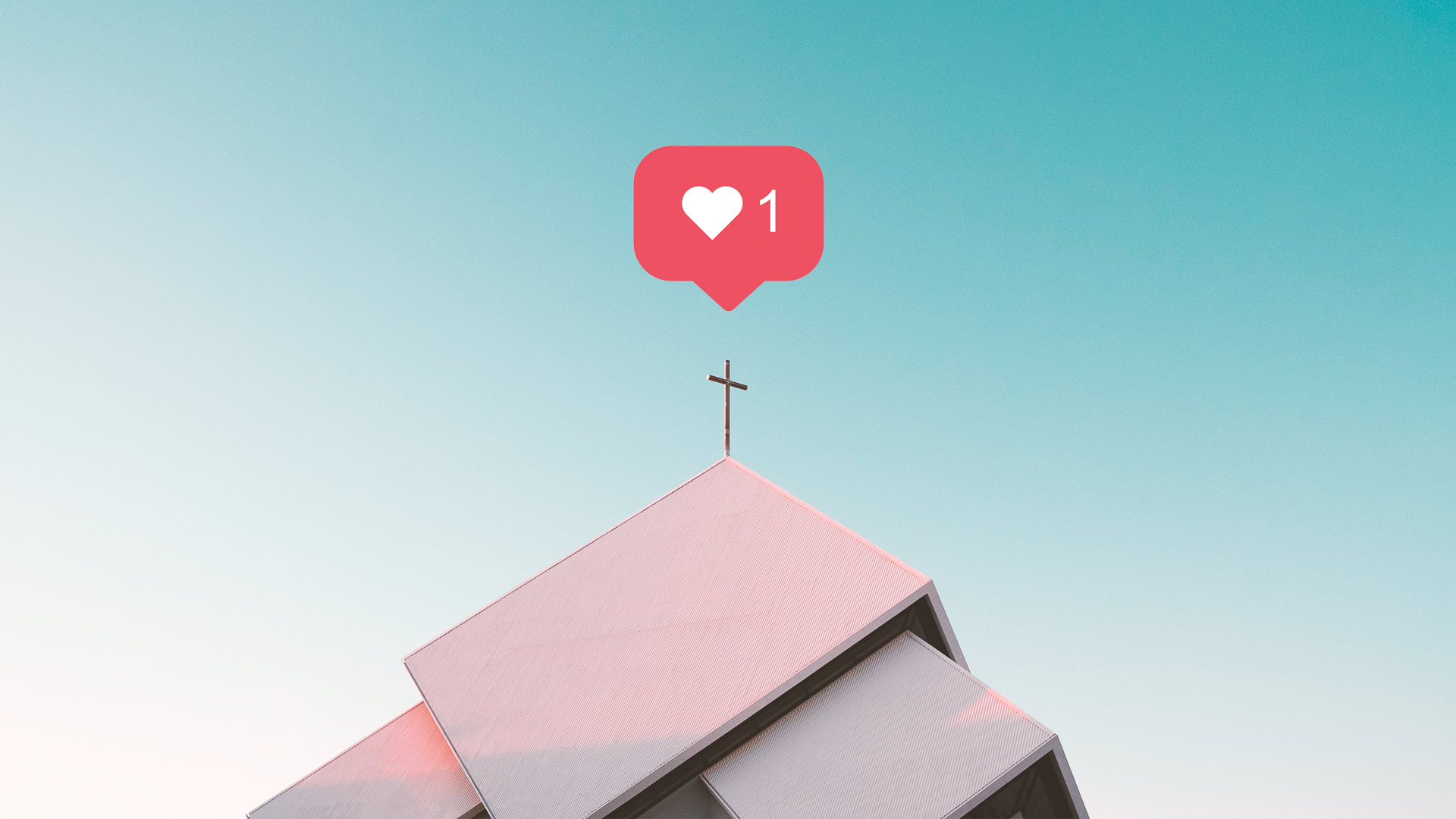 The following article was written by Alex Dion Wilson (@alexdionwilson), who is the founder and pastor of @instachurchlive – a ministry whose services all take place on Instagram. He has been kind enough to put together these tips to help churches utilize social media to reach their communities during this season of COVID-19.
—
If the Church is a people and not a place, then the most effective way for a church to engage with their community is through personal practices. When most think "personal," they think face-to-face interactions, which is highly discouraged given the current state of our world. So what do we do? We can use personal practices on Instagram to make our community feel seen and heard. A church's "brand" isn't their logo, colors, and fonts—it's how they make their community feel and become a part of their mission. 
1. Bible Story Quiz Sticker
When stories came to Instagram, the app exploded. And it's still one of the most popular features. Since this is where people spend a lot of their time, why not teach them about the Bible while they're there? With a billion monthly users, it's safe to say Instagram is one of America's favorite apps. Everyone's screen time skyrocketed with the country's stay-at-home order. Instagram stories will get even more traffic over the next couple of weeks, so how can we meet people there? By using the tools the app gives us. Instagram wants us to win; they want us to connect with people. The quiz sticker is an easy way to entertain and teach. You could introduce an Instagram Bible study with a Bible trivia question. For example, "How many books are in the Bible? 66 or 77?" It's a fun way for your community to learn. 

2. Live Church Services 
A year ago, God gave me the idea to do a short church service on Instagram live. Online church has been around for a while, but never on Instagram. Large churches use Instagram stories to ask people to "swipe up" to watch their services, so I thought, "why not just do the service right there on Instagram?" With the quarantine, our page gained 25,000+ followers in a week. Now it's your turn. Keep it simple and short. You never know who you will reach. We use an iPhone to go live and do one song, one message, and prayer. This makes it as easy as possible for your community to engage with God and each other. Every other brand in the world is thinking of ways for people to simply and effectively engage with their brand; why shouldn't we? 

3. Virtual Volunteers
Your church's volunteers are now locked down at home with seemingly no way to serve God or your church. Now they can. You can never have too many people on a welcome team because people always have a desire to feel welcomed. Create virtual volunteers who use Instagram stories and direct messaging to personally invite their followers to service. Make a video calling anyone who feels led to serve God digitally during this pandemic. Let them be creative in how they invite through videos, graphic art, direct messaging, etc. The key is to invite them into serving God from home.

4. Voice Memo Prayers 
A major tool that receives little use is the voice memo option in direct messages. I started using this feature when I got tired of typing and found out my followers like it way more. It is not only easier, but it's more personal because they can hear the tone of the person's voice. This is a great way to pray for people and counsel from a distance. 

5. Short Video Sermons 
Reposting parts of your pastor's sermon is great, but your pastor talking straight to the camera is even more powerful and personal. At this time, people need answers and encouragement more than ever. I started doing something called "10-second sermons" nine years ago on Instagram. My formula has never changed: illustration/story/questions -> Bible verse -> application. Potent, pocket-sized, and personal is the goal.

6. Comments Build Community 
Every comment where someone shows gratitude for your ministry is social proof that what you're doing helps people. So share it. People love to see themselves highlighted on your Instagram page. Reposting other's comments on your page not only makes your church's social brand more personal, but it also makes people feel like part of the community. 

7. Countdown To Service
The Instagram countdown timer gives a notification to users a few moments before the timer sounds, as well as when the timer sounds. This is the greatest gift Instagram has given to live streamers. Your church can now personally remind hundreds of people that it is time for church. Make the title of the timer simple like "Online Service" or "Sunday Service" and encourage your community to share the timer.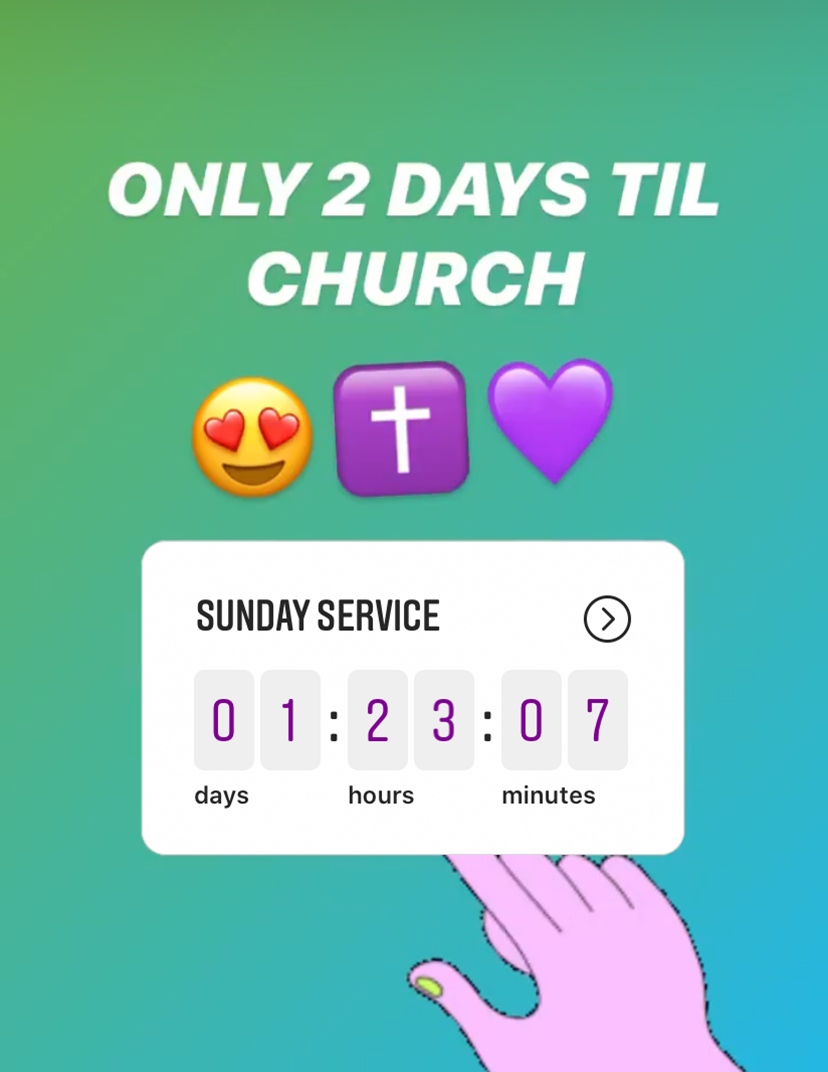 Final Thoughts
The real lockdown we are in isn't from our government or the coronavirus, it's from our own fears. We are afraid to try new things and we're afraid of change, but change is here and there is no lockdown for those who have let go of fear. Let's innovate, Church! Let's use this time to bring the Gospel even closer to where the multitudes gather.