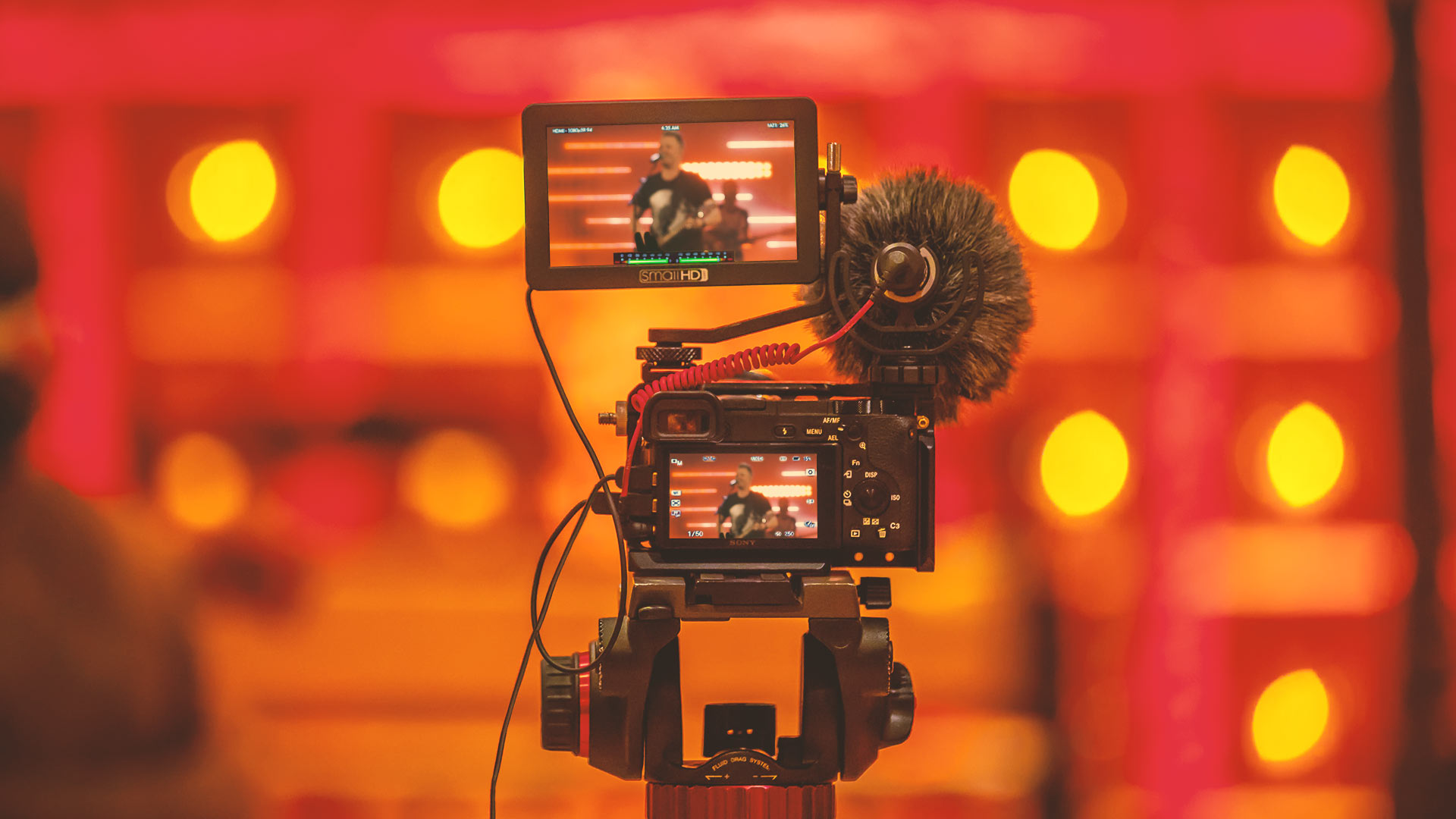 Live streaming has gained popularity in churches over the last decade as an effective way to share Sunday services with those who are home sick, traveling, and even outside of their congregations. It's one part convenience and one part outreach.
Typically, churches will add a streaming setup to their auditoriums to capture and share their worship services live and post to the internet. These setups can range from a simple smartphone on a tripod to a complex system of multiple cameras capturing every element of the experience.
Since the COVID-19 pandemic has forced many ministries to cancel their services until further notice to prevent spreading the virus, churches everywhere are seeking alternative methods to continue to preach sermons and worship together to music. Live streaming is one of the most popular solutions.
We recently took a poll in our Facebook Group filled with thousands of church tech leaders and volunteers to see what their live stream setups look like. During this season, many of them are using video equipment they already have set up in their auditoriums. Others have set up makeshift streaming studios in their church offices and homes.
We hope that seeing this range of equipment will help you as you put together your streaming system, possibly for the first time.
Setup #1
• iPhone 11 Pro
• Sandmarc 60mm telephoto lens with polarizing filter
• Roland GO:Mixer
• Amazon Basics 60″ Tripod
Setup #2
• Sony AX43 camera
• ATEM Television Studio BlackMagic Mini Recorder
• Focusrite Scarlett Solo
• Wirecast
Setup #3
• Galaxy S8
• Lenovo Tab 4
• Logitech c922 webcam
• OBS software
• iMac running ProPresenter for lyrics
Setup #4
• Panasonic HMC 80 camera (x2)
• Blackmagic ATEM Television Studio
• Blackmagic Web Presenter
Setup #5
• iMac with ProPresenter and iVGA
• Tricaster Mini stream to YouTube Live
• Epiphan Webcaster stream to Facebook live
• Sony PTZ camera (x3)
• Presonus Studio Live 32 channel mixer with aux for sending lines to stream
Setup #6
• Blackmagic Studio HD camera with 45-175 PZ lens (x2)
• Blackmagic ATEM 4K switcher
• iMac with ProPresenter 6 for graphics
• Behringer X32 for sound
• Feeds to Living As One

Setup #7
• PTZOptics 30x NDI cameras (x2)
• PC for live streaming using vMix software (to YouTube and Facebook simultaneously)
• Mac Mini with ProPresenter 7 (using NDI to pull this into our live stream)
• Behringer X32 connected to streaming PC using the X-USB card for sound
Setup #8
• iPhone (x3)
• iPad
• Switcher Studio app
Setup #9
• Mevo camera
• iPad
• Behringer X32
• iRig 2
Setup #10
• Sony NX5U (x2)
• Blackmagic ATEM
• Wirecast to Restream
Setup #11
• HP HD 4310 webcam
• vMix software
• Yamaha MG16xu
Setup #12
• Panasonic HD camera (x2)
• iMac
• Blackmagic ATEM HD
• Boxcaster
• Behringer X32 via Aux Feed
Setup #13
• Canon G40 camera
• Webcaster X2
• Behringer PMP6000
• Zoom U-22
Setup #14
• Sony PMW-200 camera
• Go Pro
• iMac for Pro6
• Blackmagic ATEM mini
• OBS to Stream Monkey and Vimeo Live
Setup #15
• Canon HD XF305 (x2)
• Blackmagic Television Studio 4K
• Blackmagic Mini Recorder PCI card
• PC with OBS streaming software
• Restream going to YouTube, Facebook, and Church Online Platform

Setup #16
• Canon C100 camera
• Blackmagic ATEM controlled by a StreamDeck
• Matrix out of LS9
• Boxcast
Setup #17
• Sony PXW-z190 Cameras running 12g SDI (x4)
• Sony PXW-z190 on a Mobile Rig with a Teradek Bolt 4k 750
• Marshall CV-420CS Cameras with 12g SDI (x2)
• iMac's feeding different Graphic needs both in room and broadcast (x3)
• Blackmagic ATEM 4 feeding into Decklink card in a Mac Pro
• Wirecast 12 pushing out to YouTube and Churchstreaming.tv
• Churchstreaming.tv also pushing out to Facebook and Church Online Platform
• WING consoles split over AES50 Protocol (x2)
• Broadcast console feeds Main LR mix back to the FOH console.
• FOH console has the ability to also mix broadcast through a stereo post fader bus in case of sickness or failure.
• FOH feeds a stereo signal to a BMD analog audio to SDI converter
• Converter to ATEM via SDI
• ATEM carries audio with video feed via SDI to DeckLink card
Setup #18
• Panasonic HPX255 Camera (x5)
• Ross Carbonite Black switcher
• Matrox Monarch HDX H.264 encoder/streamer
• Couple smaller Marshall-ish cameras for drums and other close shots
Setup #19
• Roland VR-50HD MkII
• PTZ optics cameras (x3)
• Canon G40 manned camera
• PC for lyrics & graphics
• PC running OBS Studio just to record or encode stream
Setup #20
• iPod touch
• Tripod with smartphone mount
• iPad
• TV and LED lights for background

Setup #21
• iPad Pro
• iPhone
• Many Cam app
Setup #22
• Ross Carbonite Ultra switcher
• Ross NK34 router
• Panasonic HX270 camera (x4)
• Aja Ki Pro Rack recorder
• Living As One Ray encoder
Setup #23
• Sony PTZ camera (x3)
• Sony Broadcast cameras (x4)
• Sony MVS3000 switcher
• Yamaha QL5 soundboard
• Boxcaster
Setup #24
• PTZOptics SDI camera (x3)
• LiveStream HD550
• LiveStream Studio 6
• Behringer X32
• Facebook Live
Setup #25
• Sling Studio
• iPad
• iMac with Propresenter
• Canon Vixia HF G20 (x2)
• iPod touch (x2)
• iPhone (x2)
Setup #26
• Tricaster
• Canon XF305 (x3)
• MacBook with ProPresenter
• Allen & Heath SQ5
• Boxcast streaming to YouTube & Facebook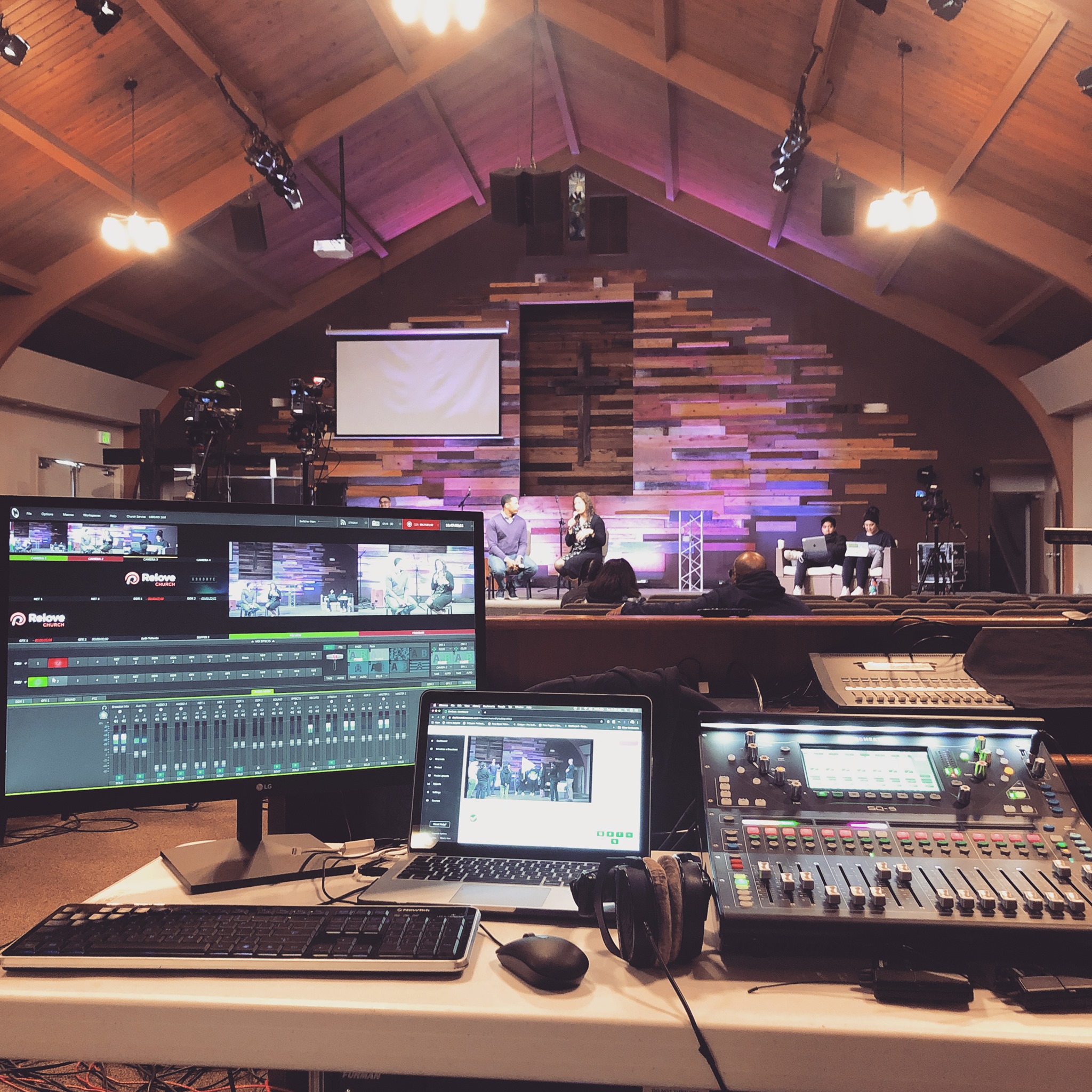 Setup #27
• Canon Vixia HF G21 camera
• Canon AX40 camera
• Tripod (x2)
• Blackmagic HDMI to Thunderbolt converters
• Mac Pro running Wirecast software
Setup #28
• Xsplit Broadcaster
• Logitech 1080 webcams (x2)
• Ceiling mounts for cameras
Setup #29
• Sony PXWX70 camera
• Sony A3 camera
• iPhone 7S (x2)
• Sling Studio Hub
• Wireless camera link (x3)
• iPad for switching
• iPad for audio mixing
• iMac with ProPresenter
Setup #30
• Ikegami broadcast camera (x2)
• Ross Carbonite switcher
• Blackmagic router
• Living As One encoder
Still Have Questions?
Churches all over the world are facing the same challenges that you are in this season. Get connected to other media teams like yours by joining our Facebook Group filled with over 35,000 church tech leaders and volunteers who know what it's like to be in your shoes. We encourage you to join our group and ask as many questions as you need. We think you'll be surprised by how many others are like you and have advice to share.
Join Our Facebook Group