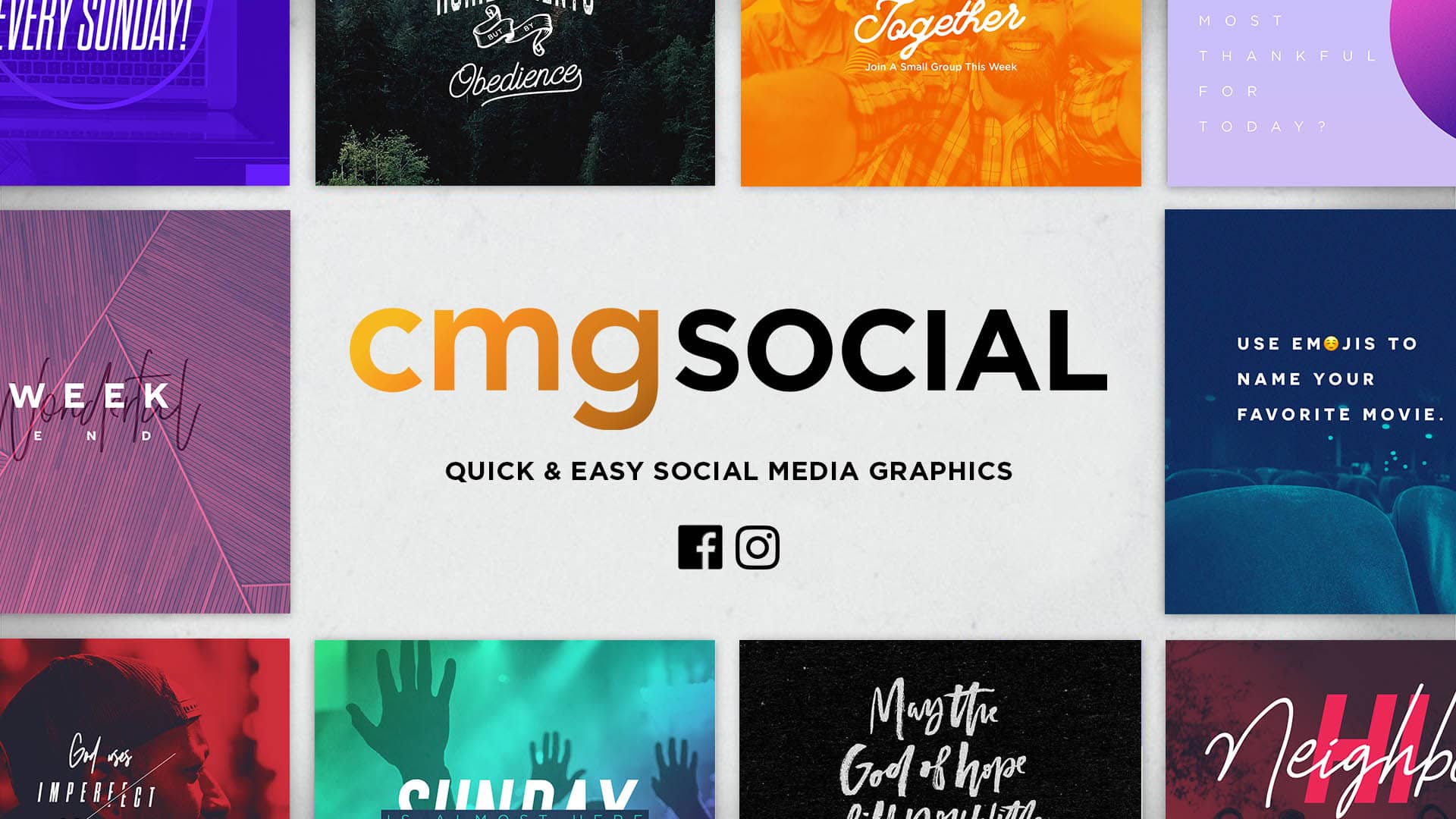 At CMG, we love helping churches look great. There's nothing that gets us more excited than seeing a ministry's atmosphere totally improved by using our motion backgrounds, titles, or templates. But, we also realize that church is so much more than weekend services. Our customers need a way to connect with their congregations the rest of the week.
With this goal in mind, we created a brand new product that we're really excited to introduce to you – CMG Social. These quick and easy social media graphics make it easy to engage your church family all week long and reach even more people in your community through social media.
See Full Collection
Everything You Need To Look Great On Social
We've taken the guesswork out of managing successful social media pages for your church. Simply choose one of our creative graphics from our large library of social media content, download to your device, and post to your page! Since our graphics are designed with crowd engagement in mind, you'll get more likes, shares, and comments than ever. See Full Collection

Text & Blank Versions Included
We understand how important flexibility is to those working in the Church. Want to customize? No problem! We have included blank versions of every graphic that you can add your own text to for a totally unique look. With options like this, you can easily repurpose a graphic to fit your specific need. See Full Collection

Over 500 Social Graphics + More To Come
We've loaded the CMG Social collection with over 500 great looks, and more are on the way! Each month, our team of talented designers will be working hard to bring you fresh graphics to use on your social pages. The possibilities are endless with this new content at your disposal each month. Plus, our library includes bonus content from our partners – Word Snackers, Zeke Tucker, and YouVersion. See Full Collection
Available To Premium Subscribers
Adding these tools to your creative arsenal doesn't have to cost a fortune. We have made our entire CMG Social library available as a part of our CMG Premium Subscription. So, not only will you improve your social media pages, but you'll be equipped with thousands of motion backgrounds, titles, and templates. It's never been more affordable to look great!
See Full Collection
Learn About Subscriptions